Carl Robinson, Ph.D., is a business psychologist and executive coach in Seattle who focuses on the development of high performance leaders. Dr. Robinson has over 25 years experience using research based, proven in the trenches, motivational and performance enhancement methodologies to help individuals and organizations improve their effectiveness.
His clients come from a variety of industries and organizations primarily centered on companies who offer intellectually based products and services in highly competitive, volatile markets with people who are intelligent, creative and usually impatient.
He speaks nationally on topics related to leadership and effectiveness enhancement. Some recent presentations include:
Leadership in the First 100 Days: How to ensure your success – workshop for partners at Tatum LLC, National Conference
"How to Become a Level 5 Leader." Venture All Stars CEO Workshop – seminar
"Executive Effectiveness: The Essentials of Outstanding Performance." Financial Executives International – Seattle
"Coaching Executives: Challenges and Opportunities for HR." – workshop for the Society of Human Resource Managers – Seattle & Bellevue
"When Times are Tough, the Tough Become Better Leaders." – workshop for Fashion Group International – Seattle Chapter
"Improving Board/CEO Relationships." Keynote for Directors' College – workshop presented through Graham & Dunn law firm
"Tales from the Crypt: Board/CEO Interactions." Panelist – MIT Enterprise Forum Northwest
"Selection by Design, Not by Chemistry: Upgrading the Assessment and Selection of Key Employees for Your Organization." – workshop for YEO University International Conference (Young Entrepreneurs Organization)
"From Dreamers to Optimizers: Can This Team Make the Transition." – presentation to Entrepreneur University – Northwest Entrepreneur Network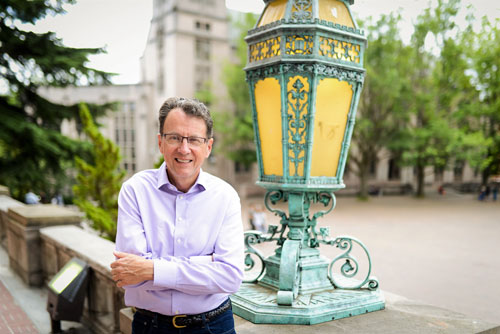 Dr. Robinson has a Bachelor of Science degree in Human Relations and Organizational Behavior from the University of San Francisco and, a Masters in Counseling Psychology from Vermont College. He earned his Ph.D. in Counseling Psychology at the California Institute of Integral Studies where he studied both Eastern and Western Psychology and Religion. Counseling psychology is the branch of psychology that is concerned with the enhancement of human performance and the quality of life. His dissertation research investigated factors that influence creative thinking. He also has conducted research into the personality differences between entrepreneurs and mainstream executives and his research was incorporated into the ASSESS personality survey by Bigby/Havis and Associates.
Along the way, on his untraditional career path, he spent a year working for a world-renowned artist as a craftsman, as the assistant to the head of a Mutual Fund and as the lead management recruiter for one of the largest health insurers in the country. He has successfully started two consulting practices, first in San Francisco and later in Seattle. One of his entrepreneurial endeavor was to open, grow and successfully sell a coffee house, Caffè Zingaro, Coffee – Tea – Delectables, in Seattle's Queen Anne neighborhood.
On a personal front, Carl is a sculler who rows on Lake Union.  He is also a ceramic artist/sculpture.  You can view his work on Instagram.
Dr. Robinson is a member of:
Association for Psychological Science
Society of Consulting Psychology (American Psychological Association)
Rotary International
Honors:
Received Board Approval in Leadership Development & Executive Coaching from Society for the Advancement of Consulting (SAC)
---
Contact Information
Contact Information:
Email: carl at leadershipconsulting.com
Work Phone:  206.545.1990
Office Location:
My office is located within the WRF/Washington Research Foundation Venture Center located at 2815 Eastlake Avenue E., Suite 300 in Seattle.
We are located on the corner of Eastlake and Hamlin. Entrance to our parking lot is off of Hamlin on the South side of our building.
Click here for map and directions to the building.